Follow your Heart
Become a consultant for just $20 and share your Love of Scentsy with Others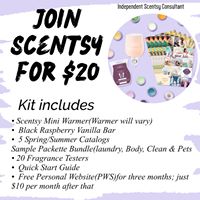 Ready to start a New Journey ? Beginning May 1, new Consultants can join Scentsy for just $20, while supplies last!
Why Scentsy?
There are so many amazing reasons to join Scentsy — from world-class events to lifelong friendships — but here are a couple of the top ones:
This kit includes:
Scentsy Mini Warmer (warmer will vary)
Black Raspberry Vanilla Scentsy Bar
5 Spring/Summer 2020 Catalogs
Sample Packette Bundle (Laundry, Body, Clean and Pets)
20 Fragrance Testers
Quick Start Guide
Free Personal Website (PWS) for three months; just $10 per month after that
This promotion is available while supplies last, but rest assured, we have enough Value Starter Kits available to make May the biggest sponsoring month in Scentsy history!
Become a Consultant for just $20 and share your love of Scentsy with others!
New Consultants can join for $20 beginning May 1